Card for warranty with hologram
The warranty service for the consumer is legally mandatory, and the card with hologram is the ideal product that replaces the traditional photocopy of the receipt, allowing the end customer to keep it as a normal credit card.
It can be combined during the sale phase together with the receipt to offer a safe and professional warranty and after-sales service, such as activation and verification of the warranty, access to user and maintenance manuals or participation in a competition with prizes.
It is possible to customize the card by adding pen-writable fields and alphanumeric codes, while for use in a computerized system it is possible to add bar codes or QR codes or the magnetic stripe or RFID chip.
The use of the anti-counterfeiting hologram, applied with hot stamping technology or manually, guarantees the non-reproducibility of the card avoiding lengthy checks to verify the customer's warranty status.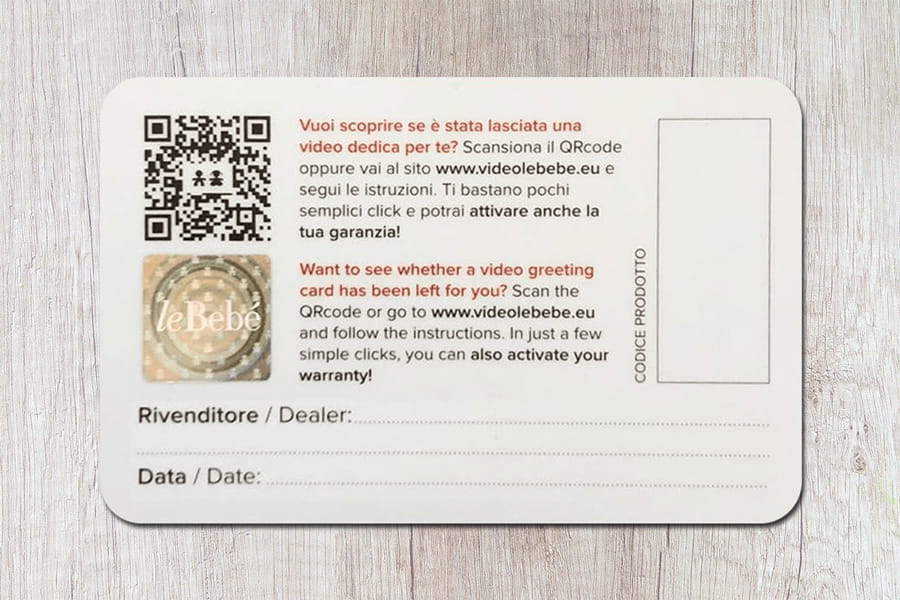 High quality materials
Standard or customized format
Customizable graphics
Non-removable hologram
Pen-writable field
Consecutive or random numbering
Static or variable QR code
---
Ask for a quote, even for small quantities
* required fields